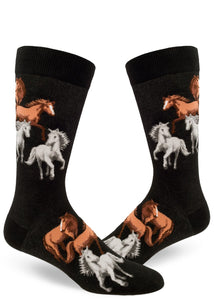 Are you an untamed stallion? A wild mustang? Just a cowboy looking to ride 'til he can't no more? These awesome horse socks for men show a wild herd of broncos running like the wind. If you love horses, they are the perfect socks to spur you onward.

Fits men's shoe sizes 8 to 13.
65% cotton, 24% nylon, 8% polyester, 3% spandex.
Designed at our headquarters in Bellingham, WA and made in Korea.