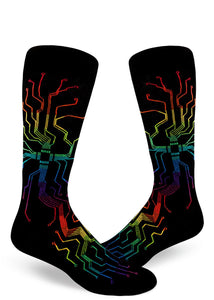 Who's a C++ whiz that sets the curve on every quiz? Nerds, that's who! These nerdy men's socks with circuit boards are made for computer-savvy guys who can troubleshoot, identify the problem and then face that mutha head on. Geek out in black socks with rainbow circuitry for a sleekly geeky look..

Fits men's shoe sizes 8 to 13.
65% cotton, 24% nylon, 8% polyester, 3% spandex.
Designed at our headquarters in Bellingham, WA and made in Korea.