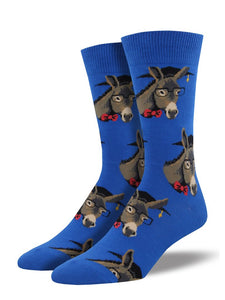 All hail the fisherman who brings home a big rainbow trout for dinner! These fun fishing socks for men are covered with sleek trout swimming and showing off their colorful stripes. Wear a pair of fish socks to work while you tell everyone your fish stories from the weekend.

Fits men's shoe sizes 8 to 13.
65% cotton, 24% nylon, 8% polyester, 3% spandex.
Designed at our headquarters in Bellingham, WA and made in Korea.