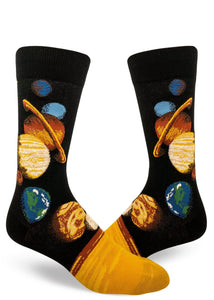 There's really nothing left to explore on Earth anymore, so the true pioneers are turning their eyes to space. If you're planning to be the first man to walk on Mars, start your journey with a single step in a pair of these solar system socks for men!

Fits men's shoe sizes 8 to 13, but we also offer sloth socks for women in crew or knee-high length.
65% cotton, 24% nylon, 8% polyester, 3% spandex.
Designed at our headquarters in Bellingham, WA and made in Korea.