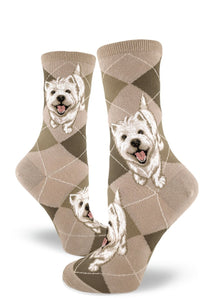 There's no better best friend than a West Highland Terrier. These loyal little dogs pack a ton of personality into a fluffy little white package. Happy Westies smile up at you from these chic argyle crew socks, inviting you to slip them on and go for a nice walk!
Fits women's shoe sizes 6 to 10, 65% cotton, 24% nylon, 8% polyester, 3% spandex.

Designed in Bellingham, WA and made in Korea.

ModSocks' knee high socks are designed to stretch beautifully at the widest part of the calf for a great fit on legs up to 18 inches in circumference.