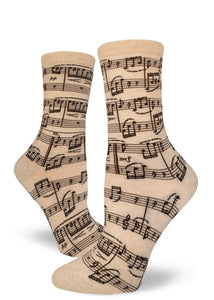 Music majors will instantly recognize the opening notes on these awesome sheet music socks for women. For the non-musical people out there, these socks are a perfectly playable piece of music: "Fur Elise" by Ludvig van Beethoven! Wear a pair and see who starts humming along when they see your socks.
Fits women's shoe sizes 6 to 10, 65% cotton, 24% nylon, 8% polyester, 3% spandex.
Designed in Bellingham, WA and made in Korea.

ModSocks' knee high socks are designed to stretch beautifully at the widest part of the calf for a great fit on legs up to 18 inches in circumference.