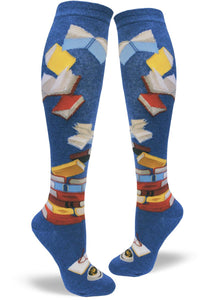 These book socks for women say you like entertainment that doesn't have to be recharged. At a glance, books may seem like dusty old dead-tree media. But as soon as you turn those pages and begin to enter the tales within, those seemingly paltry piles of paper take flight and launch you into a world of wild imagination.
U.S. shoe size: women's 6–10, men's 4–8
Wide calf fits up to 18-inch circumference
65% cotton, 24% nylon, 8% polyester, 3% spandex
Designed at our headquarters in Bellingham, WA and made in Korea
ModSocks' knee high socks are designed to stretch beautifully at the widest part of the calf for a great fit on legs up to 18 inches in circumference.