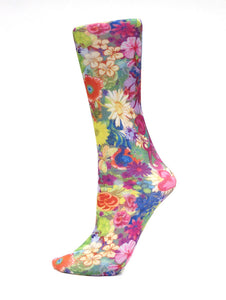 Socks complete the look. These nylon/spandex socks complement your outfit, whether it's dress pants or jeans.
The plush band at the top helps keep the socks from sliding down. Stretches to fit. Fan favorite!
91% nylon, 9% spandex. Regular trouser socks in 18" overall length for women's shoe sizes 5-11
Celestine couture trouser socks
I chose these lovely trouser socks in the Bouquet design which is in many vibrant colours of eye catching flowers They fit well and are smooth to the touch. I have just put them on today and am delighted at the way they have enhanced the look at my feet .
These trouser socks are eye catching!