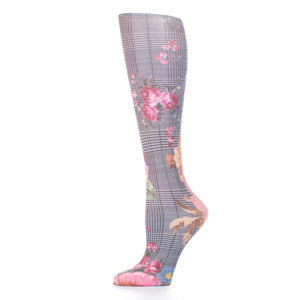 Socks complete the look. These nylon/spandex socks complement your outfit, whether it's dress pants or jeans.
The plush band at the top helps keep the socks from sliding down. Stretches to fit. Fan favorite!
91% nylon, 9% spandex. Regular trouser socks in 18" overall length for women's shoe sizes 5-11
Celeste Stein Flower Plaid
Lovely pattern on these trouser socks black plaid for background and flowers in pink and orange.Thank you for sending speedily.