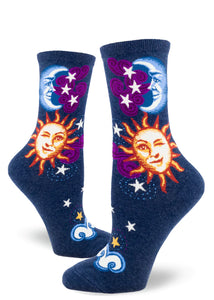 On those days where both the sun and the moon come out to play, you can tell there's some celestial magic afoot. These cool sun and moon socks show a happy winking sun and a cool blue crescent moon along with stars and swirling clouds. They are simply heavenly!
Fits women's shoe sizes US/NZ 6 to 10,
65% cotton, 24% nylon, 8% polyester, 3% spandex.

Designed in Bellingham, WA and made in Korea.