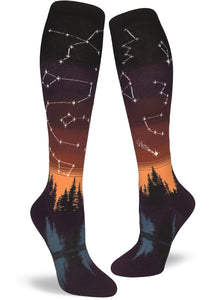 These knee-high constellation socks depict a starry night in a peaceful woods with clear skies, bright stars and the silhouettes of tall trees on the horizon. With these socks on your feet, you have a map of the stars with you at all times. Can you find Cygnus, the Big Dipper or Cassiopeia?
Fits women's shoe sizes 6 to 10, 65% cotton, 24% nylon, 8% polyester, 3% spandex.

Designed in Bellingham, WA and made in Korea.

ModSocks' knee high socks are designed to stretch beautifully at the widest part of the calf for a great fit on legs up to 18 inches in circumference.