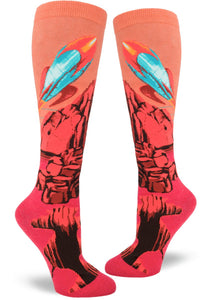 If your life plans involve one day traveling to another planet, a pair of these rocket ship socks will help you keep the dream alive! We love the awesome illustration on these socks with a rocky Martian landscape beneath a red sky with two moons and a shiny retro-looking rocket. Enjoy the pulpy science fiction of the past and the dream of future space travel at the same time in these cool Mars socks.
Fits women's shoe sizes 6 to 10, 65% cotton, 24% nylon, 8% polyester, 3% spandex.

Designed in Bellingham, WA and made in Korea.

ModSocks' knee high socks are designed to stretch beautifully at the widest part of the calf for a great fit on legs up to 18 inches in circumference.