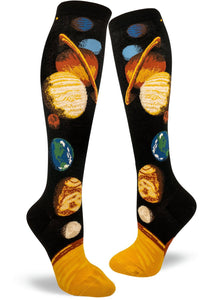 The solar system is a huge, incredible place. It's almost like living with a big crazy family: from our sun daddy and moon mama, to our closest sibling Mars, to our gassy big brothers Jupiter and Saturn. Pluto is, sadly, estranged.
Fits women's shoe sizes 6 to 10, 65% cotton, 24% nylon, 8% polyester, 3% spandex.

Designed in Bellingham, WA and made in Korea.

ModSocks' knee high socks are designed to stretch beautifully at the widest part of the calf for a great fit on legs up to 18 inches in circumference.