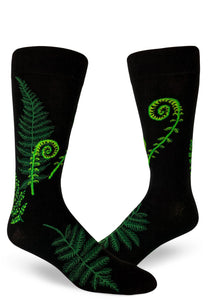 For a nature boy, a walk in the woods is a welcome relief from city life. These men's fern socks are covered in curling ferns and unfurling fiddleheads, to remind you of the great outdoors even when you are deep in the asphalt jungle. Pull on a pair of fern socks for men and picture planting your feet in the middle of the forest floor.

Fits men's shoe sizes 8 to 13.
65% cotton, 24% nylon, 8% polyester, 3% spandex.
Designed at our headquarters in Bellingham, WA and made in Korea.