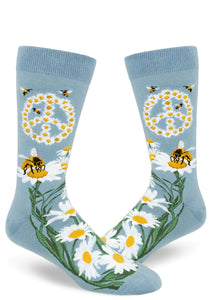 Adventure is calling from between the pages of a book: stories of monsters and heroes, laughter and romance, magic and war. Do you dare take the first step of your journey and turn the page? These men's socks with books on them will be there with you wherever you end up.

Fits men's shoe sizes 8 to 13.
65% cotton, 24% nylon, 8% polyester, 3% spandex.
Designed at our headquarters in Bellingham, WA and made in Korea.