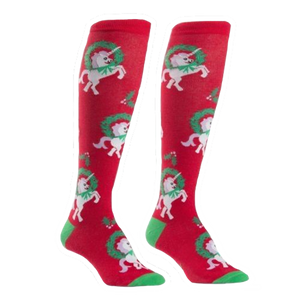 You know Dasher and Dancer and Prancer and Vixen, Comet and Cupid and Donner and Blitzen - but you may not recall, the most elusive creature of all! Steve, the Christmas Unicorn, had a very shiny horn! And if you ever saw it, you would say "Steve, how come I've never heard of you before?" And Steve would tell you all about how Rudolph stole the spotlight with his shiny nose, and since Steve always blended in with the snow, they wrote him out of Santa's stories. Honor Steve this holiday season with these funky knee high socks. We love you, Steve.
59% Cotton, 38% Polyester, 3% Spandex Made in Korea.
Approximately fits women's shoe size 5-10 and men's shoe size 3.5-8.5.