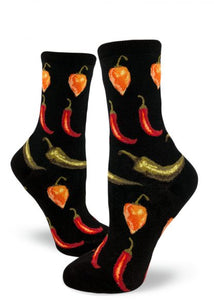 Some like it hot, but you like it REALLY hot. If you love spicy pad Thai, spicy tacos and spicy chicken, you will love these spicy socks with hot peppers like habaneros, jalapenos and cayenne chilies! Spice up your life with a piquant pair of hot pepper socks for women.
Fits women's shoe sizes US/NZ 6 to 10,
65% cotton, 24% nylon, 8% polyester, 3% spandex.

Designed in Bellingham, WA and made in Korea.