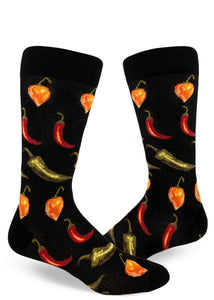 If a meal isn't spicy, then what's the point? People who love spicy food want the hottest capsicums they can find, so the hot habaneros, cayenne peppers and jalapenos on these socks are sure to light their fire. These hot pepper socks for men make a great gift for an adventurous eater along with a bottle of ghost pepper hot sauce!

Fits men's shoe sizes US/NZ 8 to 13
65% cotton, 24% nylon, 8% polyester, 3% spandex.
Designed at our headquarters in Bellingham, WA and made in Korea.