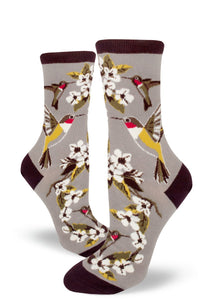 Out in the garden there's one little bird who's always hard at work. Hummingbird hearts can beat more than 1,000 times per minute, and when you first try on a pair of these sweet little socks, yours might start beating a little faster, too. 
Fits women's shoe sizes 6 to 10, 65% cotton, 24% nylon, 8% polyester, 3% spandex.

Designed in Bellingham, WA and made in Korea.

ModSocks' knee high socks are designed to stretch beautifully at the widest part of the calf for a great fit on legs up to 18 inches in circumference.