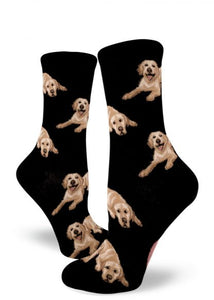 You love loyal Labradors because every time you come home they welcome you like you've been away for months! Give your lab a few scratches, some dog treats and a nice long walk with a favorite tennis ball to say thanks for all that unconditional love. These women's socks with yellow Labrador retrievers are adorable and a ton of fun! 
Fits women's shoe sizes US/NZ 6 to 10,
65% cotton, 24% nylon, 8% polyester, 3% spandex.

Designed in Bellingham, WA and made in Korea.