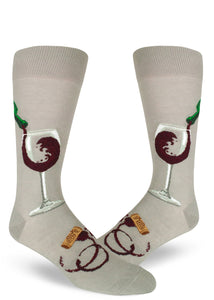 Sophistication isn't something that can be learned over night. If you really want to impress people at the wine bar, you need words to describe wine like herbaceous, aggressive, eclectic, chewy, subtle and buttery. Of course, you could also just wear a pair of these wine socks for men and everyone will assume you're an expert.
Fits men's shoe sizes US/NZ 8 to 13
65% cotton, 24% nylon, 8% polyester, 3% spandex.
Designed at our headquarters in Bellingham, WA and made in Korea.