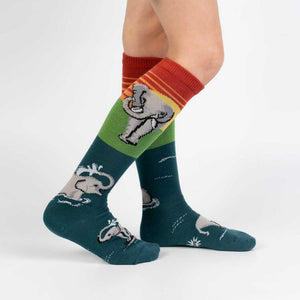 The savanna, where the elephant pack spends most of its day browsing for food, is hot and dusty. By midday, everything feels very dry. The cooling waters of the oasis call. The calves have been waiting all day for this. They charge into the water, followed by the rest of the pack, dampening their parched skin. They'll be back tomorrow to make another splash, and so can you, in these Make a Splash Knee High Socks.
69% Cotton, 29% Polyester, 2% Spandex. Made in Korea.
Our threads are certified by OEKO-TEX® Standard 100, which means we leave out harmful chemicals to keep your skin safe and happy.
Approximately fits children ages 7-10, shoe size 1-5.