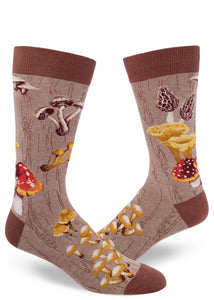 These mushroom socks for men are a forager's dream. With culinary favorites like morel and chanterelle mushrooms, plus a few poisonous varieties to keep you on your toes, these socks show the strange and beautiful world of the fungi just like you might encounter it while trekking through the woods in search of a special specimen. 

Fits men's shoe sizes 8 to 13.
65% cotton, 24% nylon, 8% polyester, 3% spandex.
Designed at our headquarters in Bellingham, WA and made in Korea.