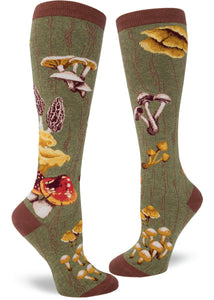 Is your fashion go-to earthy tones and forest maiden vibes? If so, these gorgeous knee-high mushroom socks were practically made to suit your style. With species like chanterelles, amanita muscaria, oyster mushrooms, chicken of the woods and morels, these mushroom knee socks show a fun variety of fungus for hikers and foragers to enjoy.
Fits women's shoe sizes 6 to 10, 65% cotton, 24% nylon, 8% polyester, 3% spandex.

Designed in Bellingham, WA and made in Korea.

ModSocks' knee high socks are designed to stretch beautifully at the widest part of the calf for a great fit on legs up to 18 inches in circumference.