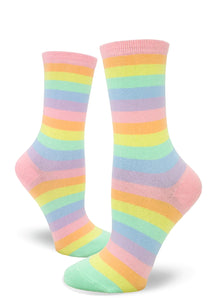 In the springtime when you crave all things pastel, pull on a pair of these pastel rainbow socks for feet that look fun and fresh. With pastel stripes in pink, orange, yellow, mint green, blue and purple, they are a cute and colorful reminder of the changing seasons.
Fits women's shoe sizes US/NZ 6 to 10,
65% cotton, 24% nylon, 8% polyester, 3% spandex.

Designed in Bellingham, WA and made in Korea.