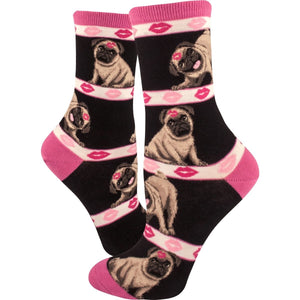 You love pugs, from their smushy faces to their curly little tails! Pugs love you right back, and they show it with their sweet, slobbery kisses. These pug socks for women with lipstick kisses are the cutest way to say you care about your little cuddle pug.
Fits women's shoe sizes 6 to 10, 65% cotton, 24% nylon, 8% polyester, 3% spandex.

Designed in Bellingham, WA and made in Korea.

ModSocks' knee high socks are designed to stretch beautifully at the widest part of the calf for a great fit on legs up to 18 inches in circumference.