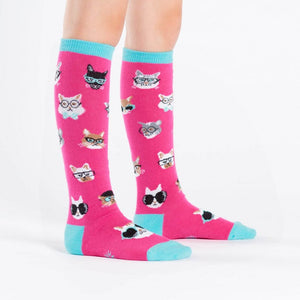 Dress smart in these pink knee high socks. These cats know a thing or two, including how to be fashionable. From reading glasses to sunglasses, these kitties have eyewear down.
71% Cotton, 26% Polyester, 3% Spandex. Made in Korea.
Our threads are certified by OEKO-TEX® Standard 100, which means we leave out harmful chemicals to keep your skin safe and happy.
Approximately fits children ages 3-6, shoe size 8-13