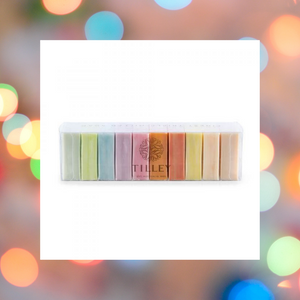 Experience a rainbow selection of our triple-milled, pure vegetable Tilley soaps in delightful 50g bars. The perfect gift for a Tilley Soaps connoisseur or for you to sample a range of our classic fragrances.
The Marble Rainbow includes 10 of our finest fragrances: Goats Milk & Manuka Honey, Goats Milk & Paw Paw, Ylang Ylang & Tuberose, Spiced Pear, Pineapple Crush, Pink Lychee, Peony Rose, Hibiscus Flower, Goats Milk & Aloe Vera and Tropical Gardenia.
Made with a premium blend of sustainable palm and coconut oils, purified water, sea salt, fragrance, vegetable glycerine and with added shea butter and natural vitamin E, these soaps will leave the skin feeling enriched, nourished and moisturised.
ALWAYS MADE IN AUSTRALIA
Really good gift idea
Very nice selection of quality soap for a gift or sampling.
In Australia however I remember them being slightly more fragrant.
Nice service, very well packaged, highly recommend! Thanks:)
Guest soaps
Great service from Jenoa, very well packaged and sent quickly
Perfect to take away for weekly work trips
I like the size of the Rainbow soaps and their different fragrances. They are perfect to take for my one night per week work trips in Wellington.
Very happy.