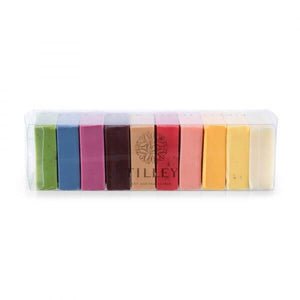 Experience a rainbow selection of our triple-milled, pure vegetable Tilley soaps in delightful 50g bars. The perfect gift for a Tilley Soaps connoisseur or for you to sample a range of our classic fragrances.
The Vivid Rainbow includes 10 of our finest fragrances: Lemongrass, Passionfruit & Poppyseed, Tahitian Frangipani, Cherry Blossom, Strawberry & Oatmeal, Vanilla Bean, Pomegranate, Persian Fig, Violet Fields and Coconut & Lime.
Made with a premium blend of sustainable palm and coconut oils, purified water, sea salt, fragrance, vegetable glycerine and with added shea butter and natural vitamin E, these soaps will leave the skin feeling enriched, nourished and moisturised.
ALWAYS MADE IN AUSTRALIA
Vivid Rainbow Soap Gift Pack 10x50g