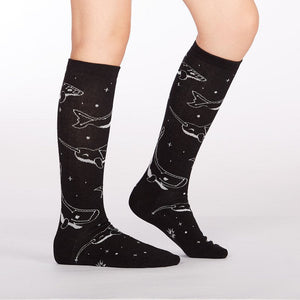 Look up in the sky! It's a whale made of stars. And next to it is a narwhal swimming through space. You never know what wonders you'll find when you take a moment to comb the cosmos. These cosmic knee highs can serve as your map to the stars—the constellations you wish were there.
74% Cotton, 24% Polyester, 2% Spandex. Made in Korea.
Our threads are certified by OEKO-TEX® Standard 100, which means we leave out harmful chemicals to keep your skin safe and happy.
Approximately fits children ages 7-10, shoe size 1-5.