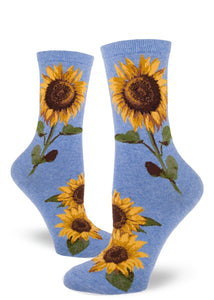 Look into the face of a beautiful sunflower like the ones on these summery sunflower socks and let their spirit fill your heart with light. These big yellow blooms not only look like suns, they also follow the sun across the sky while growing in a motion called heliotropism. Wear socks with sunflowers and keep following the sun!
Fits women's shoe sizes 6 to 10, 65% cotton, 24% nylon, 8% polyester, 3% spandex.
Designed in Bellingham, WA and made in Korea.

ModSocks' knee high socks are designed to stretch beautifully at the widest part of the calf for a great fit on legs up to 18 inches in circumference.