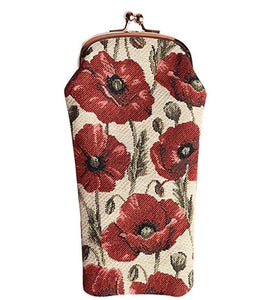 Fits a single pair of glasses.
A slim design makes the pouch ideal for fitting in a handbag or jacket pocket.
Contains a gold or silver frame with double clasp closure.
Inside is fully lined to prevent scratching and damage to your glasses.
Made from tapestry woven fabrics.
Measurements: 20.5cm high incl clasp, 9.5cm wide at widest
Glasses case
Really love this case, bright enough to see easily in hand bag and protects glasses well - looks really good too!