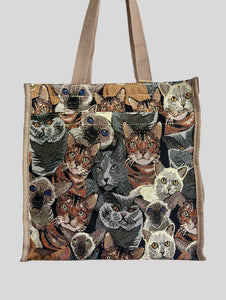 One of the most useful, practical bags you will ever own!  These come in a variety of designs with a long shoulder strap, internal lining and pockets as well as external pockets and a water bottle holder at the end.
Pair of full width pockets located on both sides of the shopper; one is fastened with a zip and the other with Velcro
Lined with patterned nylon on the inside and features zip pocket for belongings.
Top of the bag is gusseted with the tapestry material and has zip fastening across the full width, with Velcro fasteners for extra security.
Two grab handles for carriage.
Reinforced base for extra support.
Mesh pocket at one end of the bag, ideal storage for a water bottle or umbrella.
Measurements: 31cm wide x 28.5cm high x 14cm deep