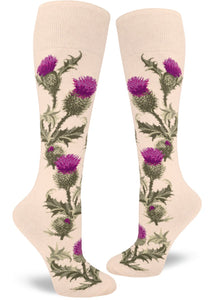 If "cute but prickly" describes your personality, you need a pair of knee-high thistle socks. Pretty purple thistle flowers make these socks a thing of beauty, while spiky green leaves add a little fierceness to a fun floral sock design. Wear a pair and let everyone know they can look but not touch.
Fits women's shoe sizes 6 to 10, 65% cotton, 24% nylon, 8% polyester, 3% spandex.

Designed in Bellingham, WA and made in South Korea.

ModSocks' knee high socks are designed to stretch beautifully at the widest part of the calf for a great fit on legs up to 18 inches in circumference.