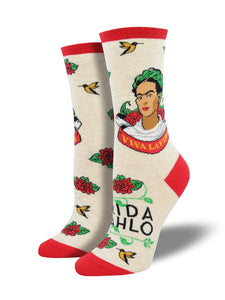 Frida Kahlo has the highly-respected reputation as of one of the most original painters of her time. Her influence now stretches across the world. Featuring Frida's portrait accompanied by "Viva la Vida," these socks continue her revolution and the rebirth of tradition.
Fits women's shoe sizes 6 to 10, 65% cotton, 24% nylon, 8% polyester, 3% spandex.
Designed in Bellingham, WA and made in Korea.

ModSocks' knee high socks are designed to stretch beautifully at the widest part of the calf for a great fit on legs up to 18 inches in circumference.