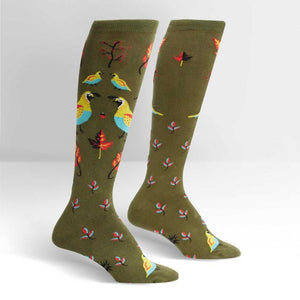 Fall foliage wraps around your leg in this olive green knee high. Quails, a ground-nesting bird are well qualified at camouflage. Take care not to step on any fine feathered friends when wearing these knee high socks, especially the baby bird hiding near the toes!
53% Cotton, 44% Polyester, 3% Spandex. Made in Korea.
Our threads are certified by OEKO-TEX® Standard 100, which means we leave out harmful chemicals to keep your skin safe and happy.
Approximately fits women's shoe size 5-10 and men's shoe size 3.5-8.5.